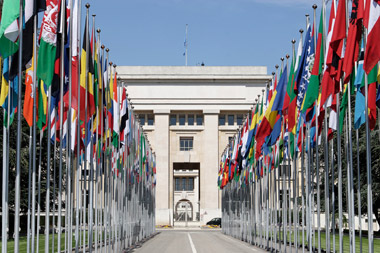 "Water is Life: Clean Water and Its Impact on the Lives of Women and Girls around the World," the latest Quilt for Change challenge exhibit, opens tomorrow at the Palais des Nations, the United Nations European headquarters in Geneva, Switzerland.  Sponsored by the U.S. diplomatic mission to the United Nations and co-organized with Rome-based American Exchange Rome, Water is Life will open as part of the United Nation's celebrations of World Water Day 2016.
This exhibit is now the fourth exhibit Quilt for Change has created in conjunction with U.S. Mission Geneva, and the fifth time a Quilt for Change show has been displayed at the UN (Women, Peace and Security also exhibited at UN headquarters in New York).  As with the other three exhibits, Water is Life addresses global issues that challenge the wellbeing and empowerment of women around the world.
From Geneva, Water is Life will travel to Rome before touring the United States (and, we hope, Canada!)  In the U.S., it will debut in February at the New England Quilt Museum before traveling to several cities with Mancuso Show Management.  We will be sure to update exhibit dates and venues as time goes on, and hope readers will be able to view the quilts in person at some point in their travels.
Water is Life is comprised of 41 quilts.  Beginning tomorrow, we will showcase each of the quilts and artist's statements to give us all an idea of the beauty, diversity and vision of the participating quilters.
To set the stage, here is the text of a poster that accompanies the exhibit.  You can help us promote the exhibit and build awareness of the issues surrounding access to clean water by liking, commenting upon and sharing the photos here on this blog and via the Quilt for Change Facebook page and Twitter feed.  (We're hoping to launch an Instagram account in the next week or so).  As always, we are so grateful to the quilters who have responded to our call for submissions and who have chosen to share their talents and compassion in helping us use quilting as a means to support women's empowerment around the world.
Earth is commonly referred to as the Blue Planet because 71% of its surface is covered with water.  However, 97% of that is salt water, and of the remainder – fresh water that can sustain life – more than half is trapped in glaciers and deep ground water.  In all, only 1% of all water on Earth is accessible for human consumption.
Water is fast becoming one of our most precious commodities. Just about everything humans do requires water: drinking, growing food, hygiene and health care, industry and transportation.
Population increases in the coming years will place unprecedented stresses on clean water supplies. Adding another 2 billion people to the existing population of over 7 billion by 2050 will intensify the challenges we already face. Two thirds of available fresh water is used to produce food. Humans have drained major water bodies for agriculture – the Indus River, the Aral Sea, the Colorado River – drastically altering the landscape of these regions.
The vital connection between water and climate cannot be ignored. Drought and flood tolerant crops will need to be developed to deal with extreme weather conditions. Melting polar caps are increasing sea levels, affecting coastlines and the large populations that live along them. Extreme weather events such as drought, heavy rainfall leading to flooding and mudslides, and destruction of coastal ground cover and erosion are already stressing coastal populations and leading to dislocation, property loss and disruption of ways of life of millions.
The global nature of water issues require that all nations work together to equitably ensure that the needs of all are balanced and that limited water resources are well managed.  Lack of access to consistent, clean sources of water affect women, children, communities and whole populations, requiring holistic, collaborative management, mitigation and planning.